Kim McConnell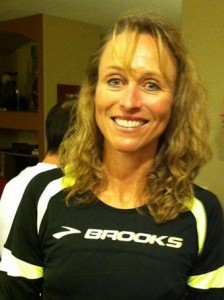 "Bid me run and I will strive with things impossible." While this Shakespearean quote (from Julius Caesar) is taken slightly out of context, it has been used so often in running circles that one can apply a little literary license! The essence of this quote encapsulates why I love to run: running brings out the best in ourselves and is an integral element in the pursuit of excellence. Running gives me great joy as I delight in creation (especially here in Colorado!), push my own physical and mental "limits", enjoy the company of others, and strive to reach ever more lofty goals. Running enables me to be a "better version of me" as wife, mom, friend, student, teacher, coach, etc.
I started running at age seven as a way to "connect" with my absent South African father who had been a world-class runner. I was never the very "best" runner among my competitors. This inspired me to work harder and led me to join a competitive training club at the age of 12. From that time, apart from a few injuries and pregnancies, I have enjoyed being a part of running communities in Texas and in Colorado. My husband and I, with our two children, moved to Erie in 1999 and count ourselves incredibly fortunate to live here.
As a runner, I thoroughly enjoy the work itself as well as the challenge of racing, of putting everything on the line at a particular time and working to pull out the best possible performance for that day. Mostly I rejoice in God's gift of good health and the ongoing desire to "strive with what seems impossible".
Doug Croft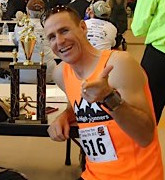 I've been living in Erie now for a little over 6 years. My wife Kimberly and I decided to move back to the Denver area from the Bay Area after our son Jake was born in 2005. We both grew up in the Denver Area and decided that a small town would be the best environment in which to raise Jake. We haven't been disappointed at all.
After checking out a few of the Boulder Area running clubs shortly after moving to Erie, I decided to try and establish my own running club in the Vista Ridge community. Since I didn't have much luck with that, I was forced to continue to train by myself. Having been in a great running club in the Bay Area for 10 + years, and knowing the benefits of group training, I was frustrated with the thought of having to train by myself. The power and the positive energy you get from training with a group of people focused on the same thing cannot be duplicated.
While competing in the Erie Race Series, I was lucky enough to meet Josh Melver the owner and operator of Redline Running Company. After talking for awhile at one of his races and trying to one-up each other on who actually goes out earlier in the morning on runs, we decided to start running together on occasion. On one cold October morning (at 3:30 or 4am) Josh presented the idea of starting a training club associated with his running company and, to my surprise, offered me a job as a running coach. Little did I know that this would be the start for me of following my true passion in life: passing on the love of running to others.
Mile High Runners was formed after Josh generously handed the club over to me and Kim McConnell when he decided to focus more his of energy and time into other areas of his business. I was lucky enough to work for Josh for almost two years before Kim and I took over the training club.
I've been running since 1994 and got into running after a visit to my Dr. I was told that I had high blood pressure and that I needed to lose weight…I weighed in at a very large 280 lbs.  I'm 6'2, but that was still 110 more pounds than I currently weigh. Shortly after my wake-up call, I started running a few miles a day on a treadmill in my wrestling shoes. This led me to run my first marathon and my first race ever in late 1995: the Portland Marathon. I crossed the finish line saying I would never do another marathon again. To make a long story short, I've now completed more 5Ks and 10Ks than I can count, over 40 marathons, a few 50Ks and a 100-mile race and continue on my quest for the perfect race.